Galaxia Sama
Forum Overlord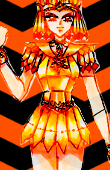 Posts

: 305


Join date

: 2013-05-23


Age

: 33


Location

: Lost in the Labyrinth


Subject: Rules for the Theater Fri May 24, 2013 5:23 am

---

Rules for the Theater

These are subject to change as Queen Beryl sees fit.



Players cannot start their Roleplays until their storyline is approved by Queen Beryl or Galaxia Sama.


Players cannot play as a character they don't have an approved character profile for. Players must have their character profile approved by Queen Beryl or Galaxia Sama.


Please no text talk in the actual Roleplay forums. These are words like "brb" "see you l8r" "lol" etc.


Keep all posts and storylines PG-13.  No smut is permitted in the Theater.


If changes are made to a storyline or character profile after it has been approved, please highlight it in pink and bump the thread, so that Queen Beryl or Galaxia Sama may review and approve the changes.


All posts should meet the expectations of the roleplay.  See below for more information.


Relaxed Roleplay Expectations:

Advanced Roleplay Expectations:



Let us know when you will not be able to post for more than a few days, and please talk with someone else in the storyline to NPC your character(s) while you are out.


Always post in the 3rd person, and try your best to keep grammar and spelling errors to a minimum.


No new boards will be created for Roleplays. There are boards set up for the storylines to be played out in.


Keep OOC posts in the OOC threads.


No double posting. It is bad manners, and all roleplayers deserve a chance to post. If by chance you double post, please ask Queen Beryl or Galaxia Sama to delete it.


No God-Modding or Meta-Gaming, please.  For information on what these things are, see below.


God-Modding:

Meta-Gaming:




ALL PLAYERS MUST POST THAT THEY R&U THE RULES OF THE THEATER.

 Your character profiles and storyline submissions will not be approved until you do so.



Punishments for Breaking the Rules:

First Offense = Warning

Second Offense = Five Day Ban

3rd Offense = Ten Day Ban

4th Offense = Permanent Ban from the Theater

If the offender proves that they can follow the rules after a 3-week probation, a permanent ban may be lifted. If the rules are broken again, the offender will be banned once more, with no chance of performing in the Theater beyond that point.

If you have any questions, feel free to message Queen Beryl or Galaxia Sama!
Queen Beryl
Queen Beryl

Posts

: 99


Join date

: 2014-09-11


Age

: 19


Location

: Valhalla


Subject: Re: Rules for the Theater Fri Sep 19, 2014 10:08 pm

---

The rules have been modified! Please R&U!

R&U

_________________

When prayers turn to promises, not even fate can stand in their way.
Zoisite
Zoisite

Posts

: 150


Join date

: 2013-05-30


Age

: 29


Location

: La La Land


Subject: Re: Rules for the Theater Mon Nov 17, 2014 4:21 pm

---
Mistress 9
Members Overlord

Posts

: 224


Join date

: 2013-05-30


Age

: 36


Location

: New York


Subject: Re: Rules for the Theater Fri Dec 12, 2014 10:08 pm

---
Sponsored content

Subject: Re: Rules for the Theater

---